Cellier Best Standing Desk
The cellier standing desk offers multiple ergonomic options for your work environment.
---
Cellier Best Standing Desk - 55.11 Inches / Walnut / Only Cellier Standing Desk is backordered and will ship as soon as it is back in stock.
Couldn't load pickup availability
We are committed to bring our products to everyone in the world. Our service delivers to most countries in the world and is dedicated to meeting a variety of shipping needs.

SHIPPING TIME:

In-stock items:

United States: 6-12 business days

Other countries/regions: 25-35 business days

Out-of-stock items:

United States: 20-30 business days

Other countries/regions: 30-45 business days

Learn more about Shipping & Delivery here.
Kinnls offers the best products that can stand up against the rigors of daily use. With limited exceptions, Kinnls provides a ten years of warranty protection on new products. All warranty periods start from the date of delivery. View more
Adjustable Lumbar Support: Freely adjust the desk height to safeguard your lumbar spine, catering to individuals of various heights, including children, men, and women.
Safety-First Design: The stable carbon lifting frame ensures safety, and the adjustment button includes a child lock to prevent accidental injuries to children.
Efficient Wireless Charging: Boost your work and study efficiency with the integrated wireless charging design, minimizing cable clutter and providing seamless device charging.
Premium Construction: Crafted with multi-layer solid wood panels, the table features a durable and dirt-proof baking paint coating on the top, maintaining a fresh appearance even after extended use.
Large Storage: Addressing customer needs, the table is equipped with three large-capacity drawers, along with a computer cable storage panel and reserved cable slot holes at the back.
Gross weight: 70kg (154lb)
Metal material: carbon steel
Desktop panel material: multi-layer solid wood
Maximum load: 150kg (330lb)
Height: 28.74.8 inches - 53.14 inches
Overview
Cellier electric height adjustable standing desk combines functionality, innovation, beauty, and ergonomic design to offer you the most healthy way to work.

Its dual motors and four-stage lift columns let you easily switch from sitting to standing. With height-adjustable design, you can customize the height to your needs and stretch your legs throughout the day. It also features a programmable memory controller to ensure that you can always reach the perfect height.
Dimensions
55.11 Inches Tabletop  (Length55.11" x Width27.36" x Thickness 5.51")
62.99 Inches Tabletop  (Length62.99" x Width27.36" x Thickness 5.51")
Adjust Height: 28.74inches-53.14 inches
Net weight of table: 70kg (154.32lbs)
Maximum load 150kg (330lbs)
Simple Controls

There are 4 levels of buttons that can control the height.

Durable Surface

High-quality multi-layer solid wood desktop that is impermeable and not prone to mold.

Stable Frame

The carbon steel lifting frame and dual motor design for a stable and quiet raise.

Wireless Charging

Built-in power strip and wireless charging design are both practical and convenient.


Reserved plug-in space

Save more space and make your desktop look cleaner.

Sturdy Base 

Solid wood table feet provides strong support up to 330lbs.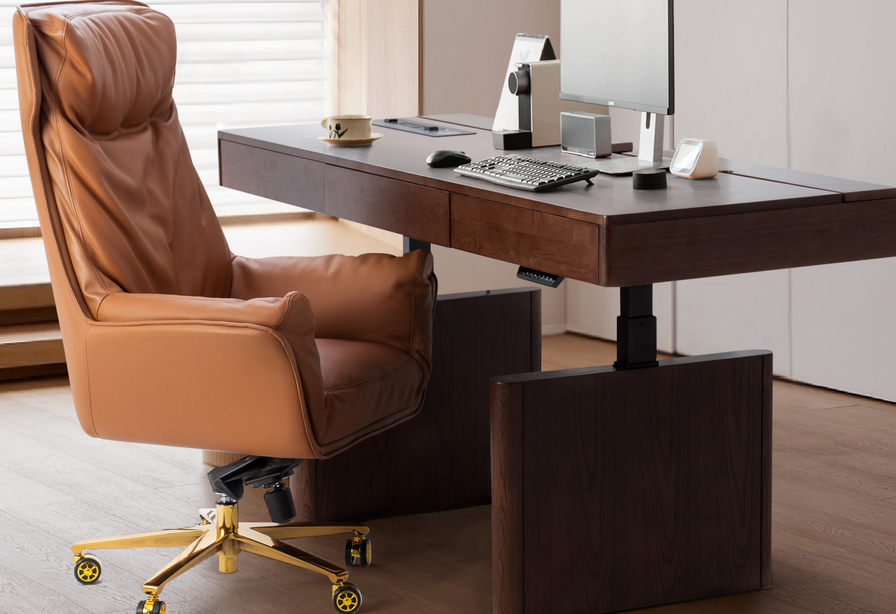 Why use a standing desk?
Sitting for long periods might be harmful to your health. It has been shown to have an increased risk of diabetes, heart disease, and early death, as well as contributing to weight gain obesity.
Adjustable standing desks are designed to get you up out of your chair, helping reverse the effects of a sedentary lifestyle. Adjustable standing desks can switch between sitting and standing throughout the day to improve health, comfort, and productivity.
Reasons to choose Kinnls Desk
Google rates 4.8 stars

Quality Inspection

Zero Formaldehyde

Original design

24-hour customer service

10 years warranty

Free shipping
FAQs
Where are your desks made?

Our desks are all manufactured in the United States, and we have a large manufacturing facility in California.
What are the work surfaces made of?

Panel material: Multi-layer solid ashwood board

Table leg material: Carbon steel

Drawers: Pinewood

Dual motor: Pure copper motor
How stable are the desks?

Our desks can support a weight of up to 330 lbs, which is equivalent to 0.04 elephants.
How do I clean the work surface?

The desk surface is coated, and stains can be easily removed with a gentle wipe. We recommend regularly dusting and wiping down the desk with gentle multi-surface cleaner wipes.
What is the setup or reset process for electric desks?

Cellier Adjustable Height desk frames are powered by electricity, so they need to be plugged into a socket for it to work. If the power supply is cut, it can be used as a static height table. Please note that the height of the table will be retained from when it was last adjusted prior to cutting the power supply.
Is the product stress tested?

Yes, our products undergo professional certification, and the lifting mechanism is tested through 500 cycles of up and down movements to ensure durability and reliability.
How to assemble this desk?
Cellier Standing Desk +
Vane Massage Office Chair
Discover new levels of productivity and style with a standing desk + ergonomic office chair combo.